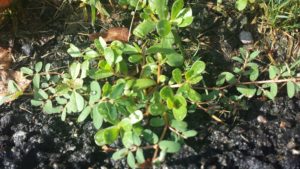 Think twice before dismissing this edible plant as a pesky weed. Consider harvesting nutritional purslane and adding it to your meals. Purslane is probably growing in abundance all around you, in your yard, garden or sprouting in the cracks of your sidewalks. When looking for it keep in mind it resembles the jade plant.
It isn't new or a fad and has been consumed for hundreds, if not thousands, of years around the world. Its popularity is growing like weeds. Purslane has found its way into trendy restaurants and many farmers markets for good reason.
This precious plant is a nutritional powerhouse. It has the highest amount of heart-healthy omega-3 fats of any edible plant, according to researchers at the University of Texas at San Antonio. The scientists also report that this herb has 10 to 20 times more melatonin, an antioxidant that may inhibit cancer growth, than any other fruit or vegetable tested.
Purslane is not only a good source of fatty acid, it also offers plenty of minerals, including zinc, phosphorus, manganese, copper, magnesium, calcium and copper, plus vitamins, antioxidants and other beneficial nutrients like alpha tocopherol (vitamin E), tocophenals, riboflavin, vitamin C and beta carotene.
It has many uses. I actually like to crunch it right off the plant. It is crispy like a cucumber and has a slight tart peppery taste. You can use it as you would any other green leafy vegetable: in salads, soups and stir-fries. I particularly like it in smoothies with sour apples and lemons or limes. Whatever strikes your fancy, you should take advantage of this free edible plant growing in a yard near you.
Cheers,
Donna