Why is this holiday so powerful?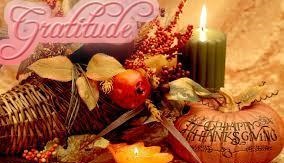 This traditional American holiday can actually bring you many benefits if you learn how to cultivate a lifestyle of giving thanks. Every year millions of American families get together to celebrate this holiday. This holiday is about giving thanks…….it's about gratitude.
For many people this is the only time they reflect on the people and circumstances that enrich their lives. Gratitude is a feeling of thankfulness. It is the practice of noticing and appreciating the positives in the world and particularly our own personal world. Focusing on what we do have rather than what we don't can have a profound influence on our lives, mood and emotional state. Thanksgiving and practicing gratitude can truly elevate our levels of happiness.  It is the key to unlocking a life of success and prosperity. Your life will dramatically improve when you make this practice part of your life.
Studies have shown depression to be inversely related to gratitude. It seems that the more grateful a person is, the less depressed they are. Clinically depressed individuals show significantly lower gratitude than non-depressed people. There are many reasons why feeling grateful can help you feel better. It is especially important to be grateful during the holidays. Here is why XXX.
During the holidays we all tend to be very busy. We are juggling parties, dinners, gift buying and church and school activities. Trying to fit it all in can leave us feeling stressed. Encouraging a heart of gratitude helps us to refocus our mind on what is most important.
The holidays should be a time to count our blessings and enjoy family and friends. Don't' get caught up on the wrong stuff. Focusing on what you don't have for example time, money, or that one special person can rob you of the joy of what you do have. It makes it harder to feel grateful for what you do have.
If you want to feel happier during the holidays and beyond, start incorporating a practice of gratitude into your daily routine.
Gratitude:
Boosts immunity: Reduces your stress and supports your immune system.
Inspires joy: Encourages happiness, erases your worries, turning frowns into smiles.
Increases energy: Helps you sleep better at night.
"Gratitude unlocks the fullness of life": It turns what we have into enough, and more.
In fact, studies show a regular gratitude practice can improve your happiness by as much as 25 percent. Let your gratitude be known to others. This way you can have a positive impact on those you encounter.
I am grateful for all of you!
Enjoy a great holiday season,
Donna